Remote control / monitoring
ERRI Interior Aircraft heaters, both AH 42 & AH 74, is equipped with Siemens Industrial PLC. The quality level performs you to remotely control and monitor operation status of the heaters. Software is designed in four (4) levels, first level is sole for ERRI AB administration of the system.

Other levels are for customer /operational use.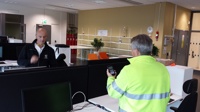 Level 3, Airport operating, handling organization
Control of; Operational ON & OFF
Selection of operational mode
Monitoring; Operational mode status
Outdoor conditions
Error alarm / documentation
Power consumption
Statistic data follow up
Operator others, to be agreed
Alarm; Cell phone application errors