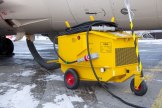 Maintenance and spare parts for AH42 see the short list. You'll also have drawings available that refers directly to short list in your operational manual. Short list simply put in pdf format so you can include them in your PDA in the field.
Use of test panel TD 200 is described in operational manual.
To order maintenance / service parts please contact Rowall company.
To order wear & tear, such as connector & air hose, please contact ERRI AB.
Contact:
ERRI AB
E-mail: [email protected]
Rowall AB
E-mail: [email protected]